日期: 2020年10月16日 (星期五)
Zoom Webinar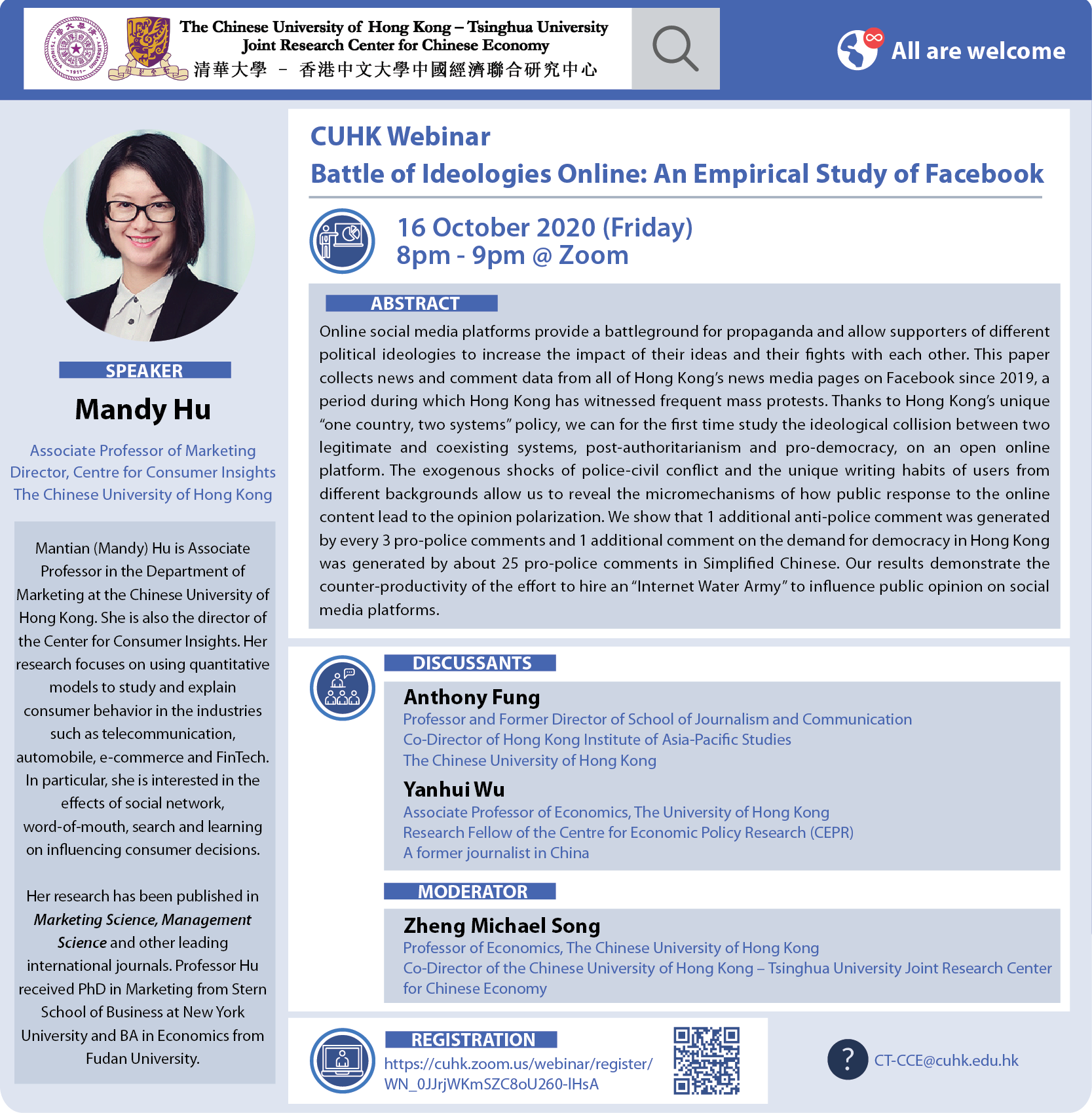 [CUHK Webinar] Battle of Ideologies Online: An Empirical Study of Facebook
Date: 16 October 2020 (Friday)
Time: 8pm – 9pm (GMT+8)
Abstract
Online social media platforms provide a battleground for propaganda and allow supporters of different political ideologies to increase the impact of their ideas and their fights with each other. This paper collects news and comment data from all of Hong Kong's news media pages on Facebook since 2019, a period during which Hong Kong has witnessed frequent mass protests. Thanks to Hong Kong's unique "one country, two systems" policy, we can for the first time study the ideological collision between two legitimate and coexisting systems, post-authoritarianism and pro-democracy, on an open online platform. The exogenous shocks of police-civil conflict and the unique writing habits of users from different backgrounds allow us to reveal the micromechanisms of how public response to the online content lead to the opinion polarization. We show that 1 additional anti-police comment was generated by every 3 pro-police comments and 1 additional comment on the demand for democracy in Hong Kong was generated by about 25 pro-police comments in Simplified Chinese. Our results demonstrate the counter-productivity of the effort to hire an "Internet Water Army" to influence public opinion on social media platforms.
Speaker
Mandy Hu
Associate Professor of Marketing
Director, Centre for Consumer Insights
The Chinese University of Hong Kong
Mantian (Mandy) Hu is Associate Professor in the Department of Marketing at the Chinese University of Hong Kong. She is also the director of the Center for Consumer Insights. Her research focuses on using quantitative models to study and explain consumer behavior in the industries such as telecommunication, automobile, e-commerce and FinTech. In particular, she is interested in the effects of social network, word-of-mouth, search and learning on influencing consumer decisions.
Her research has been published in Marketing Science, Management Science and other leading international journals. Professor Hu received PhD in Marketing from Stern School of Business at New York University and BA in Economics from Fudan University.
Discussants
Anthony Fung
Professor and Former Director of School of Journalism and Communication
Co-Director of Hong Kong Institute of Asia-Pacific Studies
The Chinese University of Hong Kong
Yanhui Wu
Associate Professor of Economics, The University of Hong Kong
Research Fellow of the Centre for Economic Policy Research (CEPR)
A former journalist in China
Moderator
Zheng Michael Song
Professor of Economics, The Chinese University of Hong Kong
Co-Director of the Chinese University of Hong Kong – Tsinghua University Joint Research Center for Chinese Economy
Registration
https://cuhk.zoom.us/webinar/register/WN_0JJrjWKmSZC8oU260-lHsA
The webinar will be conducted via ZOOM. The meeting ID will be sent to registrants by email.
Enquiry