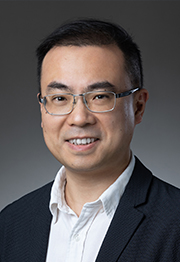 Co-Director, The Chinese University of Hong Kong-Tsinghua University Joint Research Center for Chinese Economy
Head of Department of Economics and Wei Lun Professor of Economics, The Chinese University of Hong Kong
Education:
BA (Shanghai Institute of Foreign Trade)

MA (Fudan University)

Ph.D. (IIES, Stockholm University)
Research Interests:
Macroeconomics

Chinese Economy

Political Economy
Zheng (Michael) SONG is Wei Lun Professor of Economics and the Department Head at the Department of Economics, Chinese University of Hong Kong (CUHK), a Co-Director of CUHK-Tsinghua Joint Research Center for Chinese Economy, a Co-Director of CUHK-Zhejiang University Joint Research Center for Digital Economy, a Distinguished Visiting Professor at Tsinghua University and Zhejiang University, and special-term professor at Peking University. He received B.A. from Shanghai Institute of Foreign Trade (1997), M.A. from Fudan University (2000) and Ph.D. from Stockholm University (2005). Before joining CUHK, he was an Assistant/Associate Professor of Economics at Chicago Booth (2011-15), a Visiting Scholar/Assistant Professor of Economics at CUHK (2009-11) and a Research Fellow at Fudan University (2005-09). He is a Senior Fellow of ABFER and a Fellow of Luohan Academy. His research focuses on Chinese economy and macroeconomics. His papers were published by leading academic journals including American Economic Review, Econometrica and Journal of Political Economy. He won Sunyefang Economic Science Award in 2013. He is an Associate Editor of Econometrica, Review of Finance and was a Co-Editor of China Economic Review. He sits on a number of academic advisory boards such as China's Economics Foundation and Hong Kong Institute for Monetary and Financial Research. He is also a Currency Board Committee member of the Hong Kong Exchange Fund Advisory Committee.